What We're Learning Wednesday: It Doesn't Have To Be Crazy At Work
"Our goal: No goals"
-Jason Fried, Basecamp Co-Founder
Happy Thanksgiving Eve to you, OP nation! I am excited to talk about a book I listened to this past weekend in this week's What We're Learning Wednesday. For those of you who don't know me, my name is Adam O'Donnell and I am the Operations Director for Vinaigrette Salad Kitchen and I am pumped about joining the OP blog team.
The book up for review today is called It Doesn't Have To Be Crazy At Work by Jason Fried and David Heinemeir Hansson, the founders of Basecamp. One of the things I really enjoy reading about is how other companies operate and this book is all about Basecamp's company culture, approach to work and leisure, their goals (or lack of), and much more.
Have a look at the book's cover below: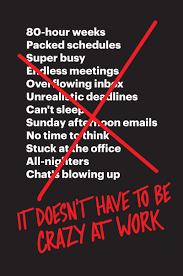 How many of the things on this list would you raise your hand and say, "yup, that's me!"? A few of them that stand out to me are super busy overflowing inbox and chats blowing up — Slack me if this is you too. Throughout this book, the authors walk us through how at Basecamp none of those things exist. It's pretty amazing the culture they have been able to create and the success of their company (something like 15+ years in a row of profitability).
Here are a few things that stood out about Basecamp:
40 hour work weeks
Everyone at Basecamp works 40 hour weeks, and that's it. As a matter of fact, through the summer months (May to September) they only work 32 hours weeks, getting every Friday or Monday off. They believe and have shown, that 40 hours of work per week is plenty to get everything done and present a great product to your customers.
Protect everyone's time
Wondering how they get everything done without ever going into overtime, or better yet, working undertime (if undertime is even a thing)? One of their top priorities at Basecamp is to protect employees' time and attention. This means they have almost no face-to-face meetings, are not expected to answer messages quickly, and have long periods of uninterrupted time to accomplish tasks.
Three's Company
"We don't throw more people at problems, we chop problems down until they can be carried across the finish line by teams of three."
In order to be as productive as possible with their long stretches of time, Basecamp breaks projects down into small pieces that can be accomplished by teams of 3 or smaller. Ever been in a meeting or on a Basecamp project where it seems like half the company is there too? The approach at Basecamp is the opposite of that: break the project down until 3 or less people can tackle all the pieces.
This book is a quick read or an easy listen and I highly recommend it. If you're more of a podcast person, here is a link to a Tim Ferriss interviewing Jason Fried. The podcast is about 2 hours long, but totally worth it.
Thanks for reading and have a great Thanksgiving everyone!
Comments